Istanbul New Airport Metro : Lines and Information
Author : isturkeysafe
4/15/2019
Last Update : 4/15/2019 The Istanbul New Airport started operations on 29 October 2018. At first, flights were being done to only a few cities (Ankara, Antalya, Izmir etc.). However, Ataturk Airport is closed to all passenger flights on 7 April 2019. Most of the passenger flights from/to Istanbul are being carried out from the Istanbul New Airport currently.
Since the Ataturk Airport was close to the city center, it was easily reached by metro. So what about Istanbul New Airport Metro to Istanbul city center?
Istanbul New Airport is only accessible by road currently, no metro is available to Istanbul New Airport right now. However there is a metro construction in progress. M11 (Gayrettepe - Istanbul New Airport - Halkali) metro line is the metro project of Istanbul Metropolitan Municipality (IMM). The first phase of the line is planned to be opened in 2020. You can see current metro lines and planned lines in the figure below. When the construction is complete, Istanbul New Airport will be accessible by M11 Metro Line as shown at the top of the figure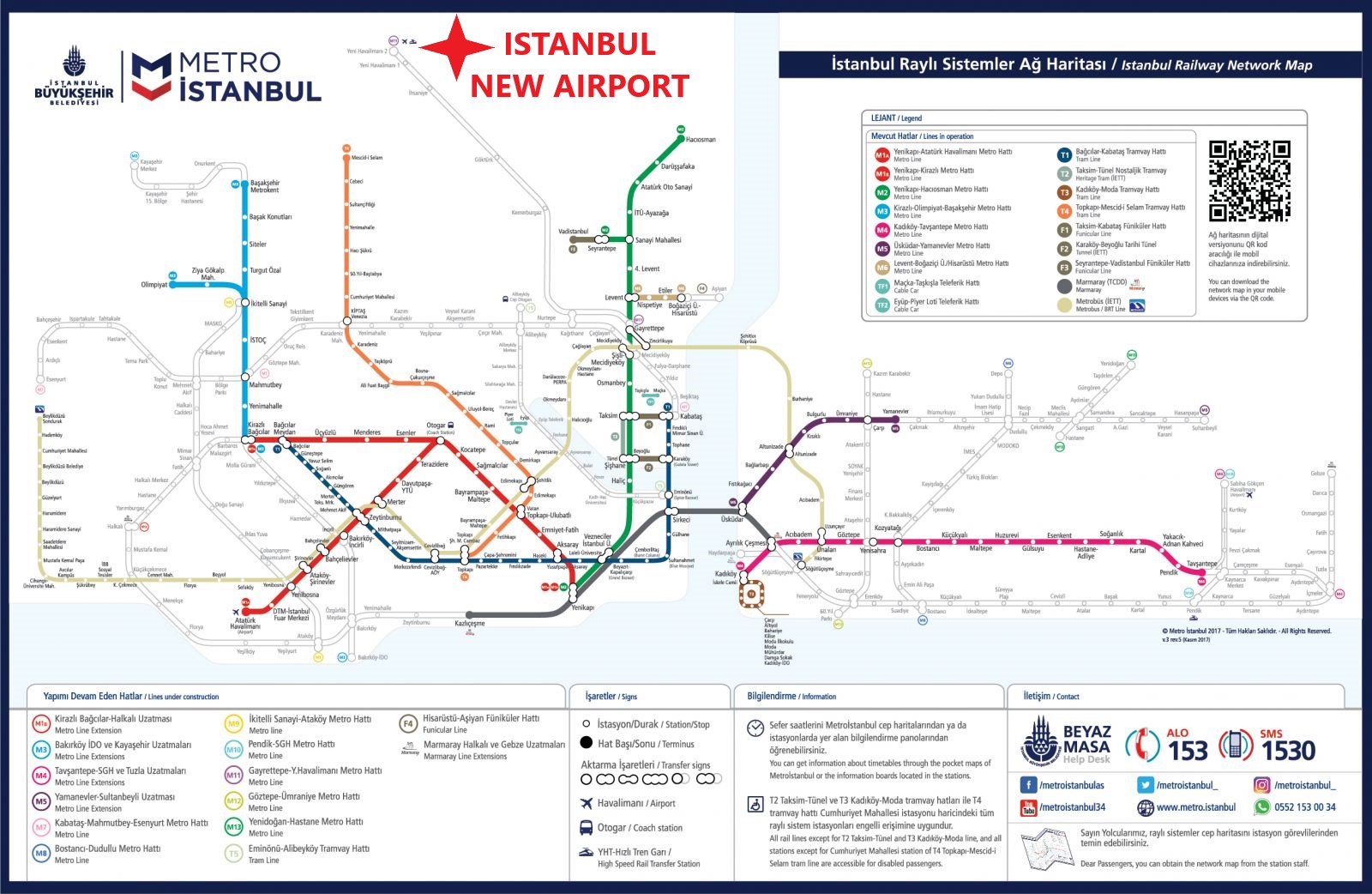 (Source:
IMM
).
Although currently there is no metro line to the Istanbul New Airport, the metro is available at many points of the city. You can try the
IMM Metro Web Site
to check how you can reach many places within Istanbul with metro.
Since there is no metro to New Istanbul Airport, how can you get to Istanbul Airport by public transport? Transportation to Istanbul New Airport by public transport is provided by IETT buses and HAVAIST buses. Both companies are managed by the IMM. You can find the lines and timetables for buses between Istanbul New Airport adn city centre at our article
Istanbul New Airport by Bus
.
Since there is no metro currently, you may use taxi to Istanbul New Airport. You can find all details, prices and tips about using taxi to Istanbul New Airport in our article
Istanbul New Airport by Taxi
. If you want to calculate taxi fare for a specific address (hotel, restaurant, POI etc.) from Istanbul New Airport, you can try our beta application
Istanbul New Airport Taxi Fare Calculator
.
What about using Uber at Istanbul New Airport? Uber is available in Istanbul, unfortunately a little limited. Due to legal restrictions, only yellow taxis are being used for Uber right now in Istanbul. Click the link to reach our article
Is Uber available in Turkey?
for updated information before your flight.
Finally, unfortunately, the metro project was not planned to be completed before the opening of the new Istanbul Airport. For this reason, there is currently no metro to reach Istanbul Airport. To reach Istanbul Airport, you can use the transportation alternatives detailed above.
0 Related Question(s)
6 Related Article(s)