Is it safe to take taxi in Turkey?
Author : isturkeysafe
7/12/2018
Last Update : 6/6/2020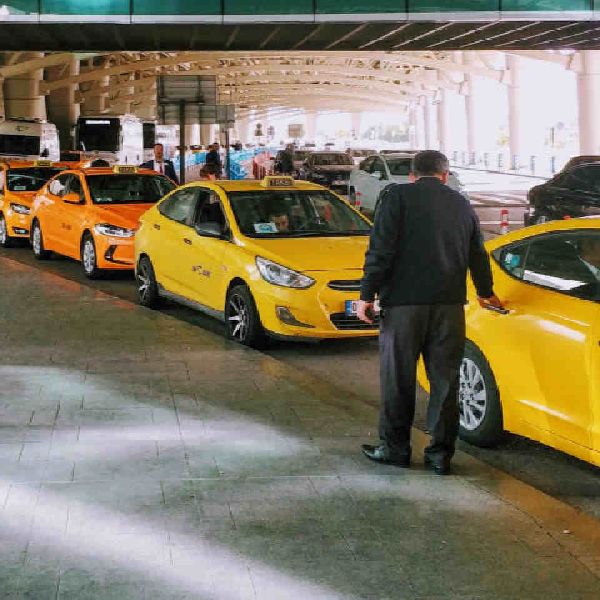 How do you take a taxi in Turkey? Taxis in Turkey can be a member of a taxi stand ('taksi duragi' in Turkish) or work without being a member to a stand. For example, taxis you see at any airport in Turkey are member to the airport taxi stand. Or when you call a taxi to your hotel in Turkey, they call it from the nearest taxi stand. On the other hand, taxis without a taxi stand usually navigate where they can find the most customers; most of the taxis you stop on the road are in this class. Taxis which are member of a taxi stand in Turkey are generally more reliable and safer. For this reason, wherever possible, choose taxis which are member to a taxi stand. How does a taxi work in Turkey? You take a taxi from the taxi stand or on the road. You tell the driver where to go. The cab driver runs the taximeter before moving. And when you reach the destination, you pay the total amount shown by the taximeter. Payment will probably be cash, credit cards are not accepted at most of the taxis in Turkey(there are exceptions in Turkey, especially D segment turquoise taxis in Istanbul accepts credit and debit cards).
Unfortunately, as in many parts of the world, taxi scam is a big problem in Turkey. Although there are very good taxi drivers, you may come across a bad driver throughout the day. Using a taxi company that your hotel agrees with instead of on-road taxis can be a good way to avoid scam. Still, it is necessary to pay attention to the following points in order to avoid taxi scams in Turkey:
TIPS TO AVOID TAXI SCAMS
Make sure the taxi driver runs the taximeter before leaving. If he doesn't run the taximeter at the time of first move, you will probably be charged a higher amount than you should give when the route is over. Since taximeters are calibrated periodically, your risk of being swindled is much lower when the taximeter is run. You can check the estimated taxi fare for some cities in Turkey from below links:
The taxi driver may offer a fixed price, do not accept it. The amount on taximeter will probably be much cheaper.
Double check the taxi driver's route with navigation, warn him in an irrelevant situation. Unfortunately, many taxi drivers in Turkey may want to take you over meaningless routes to earn more money. If you don't follow up the route and he finds out that you don't know the city, he can ride you through the city just to reach a few miles.
Before giving him the money, clearly count the money and say how much money you are giving. He may use sleight of hand to switch money you give him with a smaller one, and then he may start a show of indignation — like you're the one trying to rip him off.
Insist on change. If he says he has no change (he probably will), ask him to get it from a nearby shop.
Companies like Uber, who emerged as a solution to taxi scam problem, have not yet been able to deal with enough legal procedures. (Uber is not available in Turkey, check the article for
'Is Uber available in Turkey?'
)
UNLICENSED TAXIS IN TURKEY
Unlicensed taxis in Turkey are also a major problem. Although licensed taxis are not very safe, it is much riskier to use an unlicensed one. When you get into a licensed taxi, there is a real driver in front of you in case of a legal issue. Unlicensed taxi ride is completely risky, you cannot even be sure of the existence of the driving person's driver's license. Unlicensed taxis are not legal in Turkey. If the police stop the unlicensed taxi when you are in, you will get a penalty for using it. So how can you know if a taxi is licensed or not? Taxis in Turkey are usually yellow in color. But there are a few exceptions to this generalization. Recently, turquoise and black taxis serving high-end services in Istanbul have started to work. So, the color only is not an exact proof. On the other hand, there is a common point for all taxis in Turkey; the plate format. The middle part of the plate of all taxis begin with the letter 'T'. For example, plate format of Istanbul taxis is '34 T
xx yyyy
'. (34 shows the taxi is registered at Istanbul, x indicates random letters and y indicates random numbers) So you can understand whether the taxi is licensed or not by looking to the plate in Turkey.
TAXI PRICES IN TURKEY
What about taxi prices? You can find the taximeter starting prices and
P
rice-
P
er-
K
ilometer(PPK) taxi prices for major cities in Turkey below.
Istanbul : Start-->4TL --- PPK-->2.5TL
Ankara : Start-->4TL --- PPK-->3TL
Antalya : Start-->3.75TL --- PPK-->3TL
Izmir : Start-->3.9TL --- PPK-->3TL
As a short summarize, care must be taken when using taxis in Turkey. Keep in mind the above tips if you have to use a taxi. If you have a problem with a taxi driver, feel free to call the police - 155 from any phone.
---
7 Jul 2019 Update
As a result of the operation carried out in Istanbul, a gang aimed at frauding foreign tourists in particular was smashed. 23 taxi drivers were arrested within the scope of this operation. 38 driver's work licenses were canceled. Taxis used by detained taxi drivers were also banned from traffic.How important the measures mentioned above are revealed by this news. With this operation, the security authorities had a big blow to the taxi drivers who deceived the tourists. Nevertheless, it is a good idea to be careful when using taxi in Istanbul.
6 Jun 2020 Update
Unfortunately, in 2020 news of taxi violance in Turkey continues to come. According to
the news given here
, a Moroccan woman living in Turkey was attacked by a taxi driver in Istanbul. According to the news, the driver, who started to drive in the direction the customer wanted, began to be grumble due to the traffic on the road. When the woman, who understands Turkish, argued driver about his sayings, taxi driver attacked her. The driver, who threw the woman after attack, did not forgot to take the 22 lira written by the taximeter from the woman. Istanbul Metropolitan Municipality officials, who took action by watching the video, announced that the license of the taxi driver was canceled.
0 Related Question(s)
1 Related Article(s)