Is it safe to visit Turkey in 2019?
Author : isturkeysafe
1/20/2019
Last Update : 10/29/2019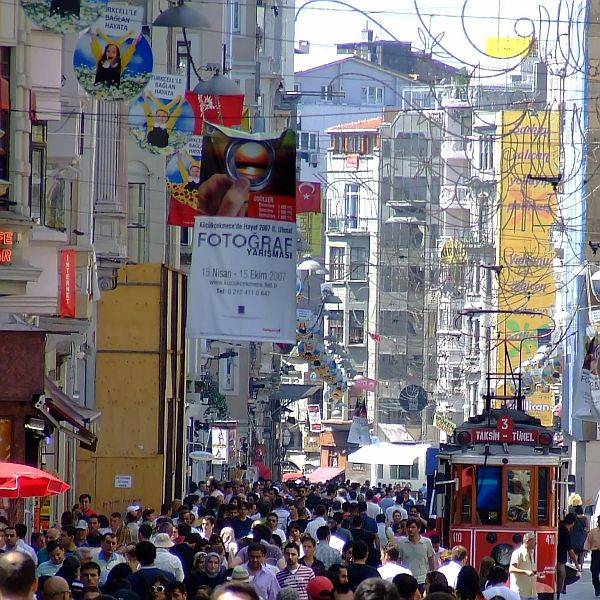 We left 2018 behind. Nowadays, you have already started to make holiday plans for 2019 summer. For those who live in the northern hemisphere, making a summer holiday plan during these cold times of the year gives life energy and motivation. There are many holiday options you can choose from, Turkey is in this list. So, is Turkey safe for holidays in 2019?
We can start by considering the year 2018 in Turkey. How was 2018 in Turkey in terms of tourism?
In 2018 more than 40 million tourists visited Turkey. This much number of visitors was a record for Turkey. In particular, the depreciation of Turkish lira against world currencies in 2018 (average 40%) has made Turkey a good choice in terms of tourism. At the beginning of 2018 1TL (Turkish Lira, currency of Turkey) was $0.27, while at the end of 2018 it is $ 0.19. This situation also makes Turkey much more attractive in terms of tourism economy in 2019.
Who visited Turkey by most in 2018? In 2018, Russian, German and British tourists visited Turkey at most, respectively. According to data from the Ministry of Culture and Tourism of Turkey, almost 6 million Russians, 5 million Germans and 2.5 million British chose to Turkey for vacation. The most preferred regions were Istanbul, Antalya and Aegean regions as in previous years.
So, is it safe to visit Turkey in 2019? The first thing that comes to mind when it comes to safety in the globalized world is unfortunately terrorism. 2018 was a 'safe' year in Turkey in terms of terrorism. Security measures was increased after the failed coup attempt occurred in 2016 in Turkey. Thanks to increased security measures, any serious terrorist incidents in Turkey's touristic places did not happen in the last two years. You can find the European Terror Map of 2018 below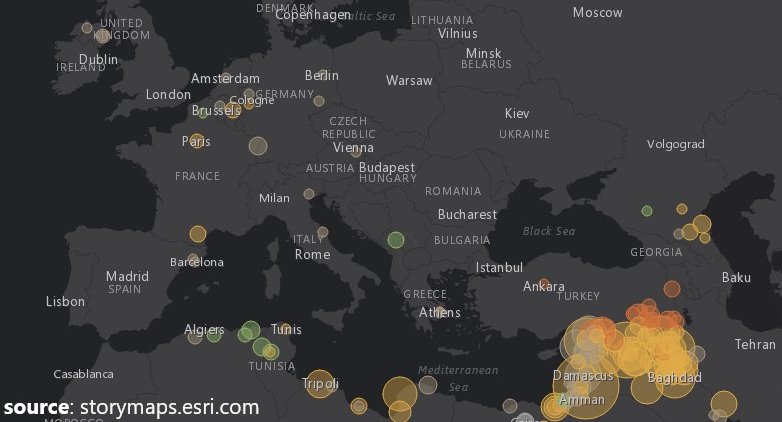 (
click for the source; storymaps.esri.com
)
As you can see from the map, in 2018, just one terrorist attack on a government agency in Ankara happened, where three people were injured. Currently, there is terror risk only at Turkey's southeastern border. Since Turkey's main touristic cities are quite far from the Southeastern Anatolia (1000km from the nearest touristic region), it is not necessary to keep in mind this region when planning a vacation to Turkey. You can check the whole terror risk map from UK Government site (Turkey Risk Map). There is only Mardin in the southeast Turkey that you can visit for touristic purposes, even there no reported terrorist risk occurs (by the way, Mardin offers you a breathtaking history in terms of cultural tourism, (click here for more information about Mardin)
In terms of safety, homicide rates can give idea. Turkey is in a good position in this regard. According to OECD data, Turkey is well below average in terms of homicide rate. You can find the relevant section of the article in the OECD website below, and visit the OECD site for further information (
OECD Safety Webpage
).
The homicide rate (the number of murders per 100 000 inhabitants) is a more reliable measure of a country's safety level because, unlike other crimes, murders are usually always reported to the police. According to the latest OECD data, Turkey's homicide rate is 1.7, lower than the OECD average of 3.6.
On the other hand, according to the data in the same article, 61% of people say that they feel safe walking alone at night in Turkey, which is less than the OECD average of 69%. Also in terms of gender equality, according to OECD data, Turkey is still not in a good position. However, this does not affect you much when you go to Turkey as a tourist; at a hotel or restaurant you go the gender inequality will not be an issue, as everywhere the main aim will be customer satisfaction.
We've mentioned about good things. Let's talk about the bad. The biggest risks during a touristic travel to Turkey in 2019 are taxi scams and theft. Turkey, as in many touristic places, has not been able to find a complete solution to these two problems. From theft aspect of view; Turkey is much safer than many developed countries. According to the World Bank rankings, the Crime and Theft rates in Turkey is far more below than these of USA and UK (click for the source). With a few measures you can take during a touristic tour, you can easily protect yourself from theft. In our article ('How bad is the crime in Turkey?'), we summarized the measures as follows:
When walking outside, be careful not to put anything of value in your backpack. Keep your wallet and phone in your side pockets, if possible. Cramped areas such as escalators create an environment for thieves to attack your bag. It doesn't matter if the zipper of the bag is closed, usually thieves create a cut with a cutter tool and steal from this cut.
If you are walking near the road, take care to keep your bag in the opposite direction of the road in order to avoid snatching.
It may be useful to keep your hand on your valuables when walking through tight places (eg markets). In a tight walking area, a foreign hand can easily reach your pocket / bag.
Be sure to whom you gave your phone/camera to take your photo. If you take a question like "Would you like me to take your photo" without your request at touristic places like Sultanahmet or Hagia Sophia, it would be better to make a negative return. Maybe it's a good-faith proposition, but you can't be sure. If you will give your phone/camera to a stranger to take your photo, it is better for you choose this person.
Do not leave your bag unattended for any purpose. When you return, you may not find it in place. In addition, due to the terrorist incidents until 2016, the police are very sensitive about this. Even if it is at the place you left, it can be difficult for you to reach your bag because the area can be emptied and secured for safety reasons by the police.
Anyone under the age of 18 are considered children in Turkey and children often receive less punishment for crimes in Turkish law. Therefore, thieves can use children. Be careful if there are lots of non-parented children around you.
Taxi scam is a big problem in Turkey. Companies like Uber, who emerged as a solution to this problem, have not yet been able to deal with enough legal procedures (Check the article for 'Is Uber available in Turkey?'). As copied from our article(Is it safe to take taxi in Turkey?), it is necessary to pay attention to the following points in order to avoid taxi scams in Turkey:
Make sure the taxi driver runs the taximeter before leaving. If he doesn't run the taximeter at the time of first move, you will probably be charged a higher amount than you should give when the route is over. Since taximeters are calibrated periodically, your risk of being swindled is much lower when the taximeter is run.
The taxi driver may offer a fixed price, do not accept it. The amount on taximeter will probably be much cheaper.
Double check the taxi driver's route with navigation, warn him in an irrelevant situation. Unfortunately, many taxi drivers in Turkey may want to take you over meaningless routes to earn more money. If you don't follow up the route and he finds out that you don't know the city, he can ride you through the city for a point a few miles away from you
Before giving him the money, clearly count the money and say how much money you are giving. He may use sleight of hand to switch money you give him with a smaller one, and then he may start a show of indignation — like you're the one trying to rip him off.
Insist on change. If he says he has no change (he probably will), ask him to get it from a nearby shop.
Finally, is Turkey safe in terms of natural disasters? Any flood or tsunami in Turkey? The only issue to be taken into consideration in terms of natural events in Turkey is earthquakes. You can find detailed information about Earthquakes in Turkey in our article,
Earthquakes in Turkey
.
So, to summerize, is Turkey safe? Turkey is safe as long as you pay attention to certain issues. You can join to 40 million tourists who came to Turkey for holiday in 2018 and enjoy a cheap and high quality holiday.
29 October 2019 Update
If you're wondering the impact of the current situation in Syria to Turkey's security, article in our site on this subject can be found at the link below.
Is it Safe to Visit Turkey While Syria Operations Continue?
0 Related Question(s)
0 Related Article(s)