Uber Istanbul : Is there Uber in Istanbul?
Author : isturkeysafe
1/31/2020
Last Update : 1/31/2020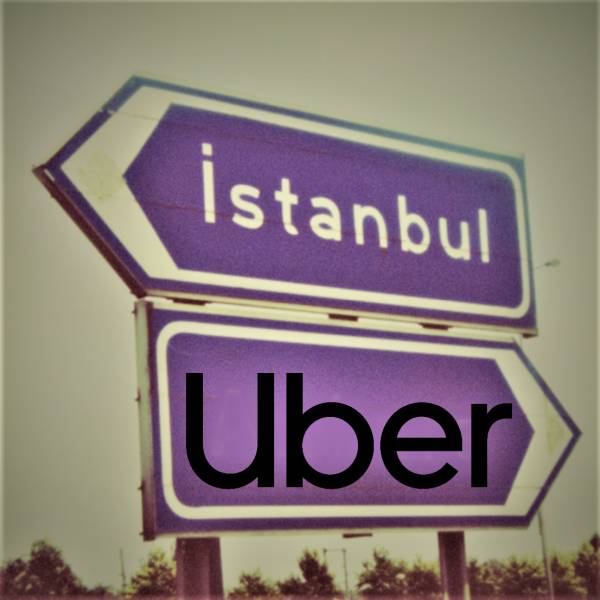 Transportation has become one of our everyday needs such as food and sleep. In the Neolithic ages, we do not need to move so much in our mini ecosystems, but in cities where millions of people live today, we make a total of billions of kilometers a day; so transportation is at the center of our lives. Our daily transportation, which started with a horse and continued with cars and trains in the modern era, changed in a way that it would never be the same after the smartphones entered our lives. Now, we plan our transportation with this mini world in our pocket; we are able to reach the cheapest, fastest and safest transportation alternative with a click. Let's start with the first brand that comes to mind when it comes to digitalization in transportation: Uber.
Uber:The Golden Age of Transportation
Uber is one of the largest transportation platforms in the world. This system, which started in California only 11 years ago in 2009, soon surrounded the world. Using Uber's unique system, it is now possible to travel with maximum comfort, without waiting for a taxi, without stress, knowing how much money you will pay. These advantages have made Uber very popular all over the world. While searching for taxi phone numbers in the past, nowadays, it is possible to find an inexpensive transportation alternative anywhere in the world with this magic application. Although it has been struggling with legal problems in many countries over the past few years, Uber has not lost its influence. Uber seems to be at the center of transportation alternatives for many years if lack of profitability due to legal problems in various countries does not cause operational difficulties.
We briefly talked about Uber; What about the alternatives?
Lyft: Fast Little Brother
The rapid progress of Uber, which emerged in 2009, revealed the size and opportunities of the online market in transportation. This demand in the market has increased the appetite of investors and software developers for new platforms, enabling new digital platforms. One of these new platforms is Lyft, which was founded in California in 2012 like its older brother Uber. So why should we use Lyft while we have Uber? The biggest advantage of using Lyft, not Uber, is the amount you will pay. The fact that it is so popular often makes Uber more expensive than Lyft. Of course, while there is an alternative like Uber, it is not easy to spread all over the world. Today, Lyft only serves in the United States and Canada.
We gave brief information about the platforms; what about Istanbul, how is the situation in transportation in Istanbul?
Nightmare in Istanbul: Transportation
Istanbul is one of the largest metropolises in the world, with a population of 17+ million people. However, there is a subject in which this big city is negatively separated from many other metropoles: metro transportation. While there are multiple train / metro alternatives to go from one point to another in almost all cities of this size in the world, there is not a single metro line that reaches many points of Istanbul. The situation is so bad that it is not possible to reach the two airports of the city by metro in the first months of 2020, when this article was written. A subway line is under construction for transportation to Istanbul Airport (
Click here to reach our article about Istanbul Airport Metro
). There is no metro line (even plan) for transportation to Sabiha Gokcen Airport, which is Istanbul's second International Airport. According to
CBS's article
, Istanbul was the 9th worst city in the world in 2019 in the manner of traffic. Even this is enough to imagine the nightmare you will live alone. When this is the case, traffic in Istanbul is always on people's agenda during the day. Let's assume you have a tiring meeting in Istanbul. The meeting ended at 6pm; and now you are ready to immerse yourself in the perfect SPA center of the hotel you have booked to relieve the tiredness of the day. We have bad news for you, you may be stuck in traffic for hours and use the hotel only for sleeping. Or you can spend more time than duration of the plane coming from anywhere in Europe to Istanbul while trying to reach your hotel in Istanbul from the Istanbul Airport. Because when it comes to transportation in Istanbul, sometimes it is the standard of this city to spend your hours in a traffic without a reason. Residents of Istanbul are very accustomed to this situation; however, spending time in this traffic can be quite stressful for a visitor. For this reason, which service you use for transportation in traffic is very important.
Uber in Istanbul: A Sad Story
Is Uber available in Istanbul? Unfortunately, the answer to the question whether there is Uber in Istanbul is a sad 'NO'. But why does Uber not serve in Istanbul? In fact, Uber wants to serve in Istanbul. Until 2019, Uber was available in Istanbul; but presence of Uber was not allowed. Uber survived many legal problems in the past years; and finally, after the decision of the court in 2019, Uber become totally inaccessible from Turkey. If you want to access the Uber website in Turkey, you can see that Uber is prohibited. The first question that comes to mind is why should the government want to ban a useful application like Uber in Istanbul, in a metropolis where public transportation is inadequate?
Uber vs. Istanbul Taxi
The answer to the question why Uber is banned in Istanbul is actually very simple; 'money talks'. There is a very powerful taxi lobby in Istanbul. 18.000 taxis serve in Istanbul. Considering that the number plate of a taxi in Istanbul has a value of about 300-400 thousand US Dollars, you can understand the financial power of taxi owners. Why are taxi plates in Istanbul so expensive? All license plates are privately-owned, and no license plates have been issued for a taxi in Istanbul since 1966. For this reason, vehicles and drivers have been changing for more than 40 years, but the plates have never changed or added. 18.000 taxis were enough for a non-touristic city where 2.5 million people lived in 1966. However, in 2020, 18 thousand taxis are not enough for a few million tourists in addition to 17 million people living in Istanbul. Naturally, this market, where there is no supply and with demand increase day by day, does not accept competition. The Istanbul taxi lobby does not want new taxi license plates in Istanbul. When an application that can compete with taxi starts in Istanbul, the taxi lobby tries to destroy its opponent. The situation for Uber went like this; Uber lost to the taxi market in Istanbul. As a result, unfortunately Uber no longer serves in Istanbul.
Lyft and Others in Istanbul: Alternatives
What is the situation for Lyft in Istanbul; is there a Lyft in Istanbul? Lyft currently only serves on the American continent, so Lyft does not serve in Istanbul. So, what is the situation for alternative services to taxi for Istanbul city transportation? There are platforms such as Itaksi and Bitaksi that serve in Istanbul; however, such platforms can only serve with taxis, so there is no big difference in service. What if you don't want to take a taxi in Istanbul?
Istanbul Private Transfer Services
Due to the security and competence problems of taxis in Istanbul, locals and tourists are looking for alternatives(
Click here for our article 'Is it safe to take taxi in Turkey?' for more information
). You have two options here; you will either get service illegal taxis, or you will use private transfer services that serve completely legally. As IsTurkeySafe, we definitely do not recommend illegal taxis because you do not know what will happen to you in an illegal environment. However, you can use local private transfer services. Many transfer companies provide services for cheap, safe and luxurious transportation to all parts of the city, especially airports, in Istanbul. So which transfer company should you prefer? You have three international transfer service portal alternatives for Istanbul:
How is the situation for public transportation in Istanbul? Public transportation in Istanbul is provided by metrobus (a kind of bus), metro, tram and buses. However, in a city where 17 million people live, public transportation can be a nightmare especially during working hours. If you want to go to the city from the airport by public transport, you have no alternative other than the bus. You can find detailed information about this subject in our
'Istanbul New Airport Buses : Lines, Timetables and Tips'
article.
0 Related Question(s)
0 Related Article(s)