Resting in Istanbul Airport: Hotels, IGA Sleepods and More
Author : isturkeysafe
1/12/2020
Last Update : 1/12/2020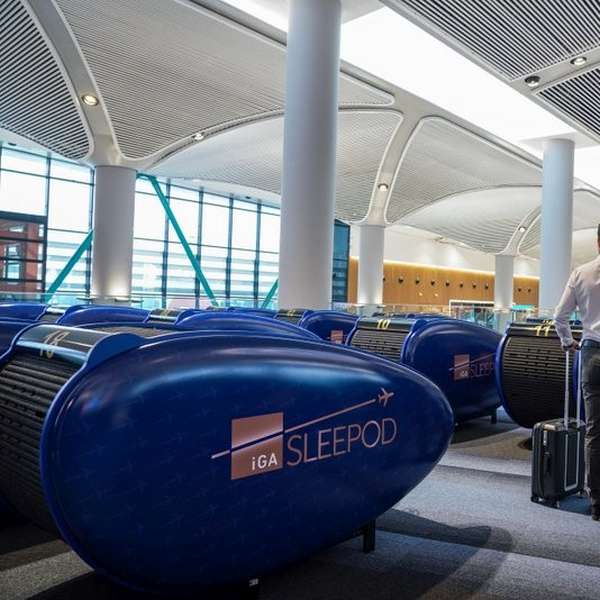 The number of airports for flights from Turkey to abroad (and vice versa) not so much. Sabiha Gokcen Airport (Istanbul), Istanbul Airport, Esenboga Airport (Ankara), Adnan Menderes Airport (Izmir) and Antalya Airport are the airports you can use when coming to Turkey from abroad (and vice versa). Of these, Antalya Airport usually provides services for tourist trips, so connecting flights are not enough from Antalya to Turkey's other minor cities. Although the connecting flights are much more in Ankara and Izmir, the number of international lines serving these cities are very insufficient. As a result, if you want to come to Turkey from abroad(or vice versa) your way will probably pass through Istanbul.
Istanbul Airport: Turkey's Gateway to Abroad
Turkey's biggest airlines is Turkish Airlines(
Click here to read our article -Is Turkish Airlines Safe-
). Due to economic and political reasons, a large majority of Turkish Airlines flights from Turkey to abroad is carried out from the new Istanbul Airport. Therefore, if you have a flight to Turkey from abroad (or vice versa), your way will probably pass from Istanbul Airport. Sabiha Gokcen Airport, which is the only airport on the Anatolian side of Istanbul, is used by many airlines, but is not preferred by Turkish Airlines.
What makes Istanbul Airport so attractive? Istanbul Airport is Turkey's largest airport which started operations in 2018. When all construction is completed, it will be one of the largest airports in the world. Recep Tayyip Erdogan, Turkey's president, is pursuing a policy towards the development of the Istanbul Airport. Therefore, in the current political and economic conditions, Istanbul Airport seems to continue to be Turkey's busiest airport.
Problems Caused by Size : Traffic Density
It may not always be great to be biggest, especially when it comes to an airport. The fact that Istanbul Airport is so big brings operational problems. It is possible to see an airplane taking off or landing every 5 minutes at Istanbul Airport. This intensity may not disturb you if the whole operation proceeds smoothly. A possible problem, however, comes with long waiting times. In such a case, you may have to spend hours in the airport. How can you rest in such a situation?
Yotel Hotel Istanbul Airport: Expensive but Simple
If you don't want to get out of Istanbul Airport in a wait situation, the Yotel hotel is the only hotel that will meet your need. Both before the security check (landside) and after the security check (airside) Yotel hotels are located in Istanbul Airport. At Yotel Hotel, you can relieve the tiredness of the day and store energy for your next flight. But we have to warn you; staying in a hotel located within the airport, as it is anywhere in the world, is very expensive in Turkey comparing to staying in a regular hotel. While you can stay in a hotel of this standard by spending an average of 50€ in the city center, you have to consider spending an average of 150€ to stay at Yotel. If you don't have much time left for your transfer plane, it is reasonable to stay at Yotel Hotel Istanbul Airport for a saving relaxing time. However, if you have enough time for a transfer plane, you can get a transfer service to city center about 50€ (
Click here to check airport transfer prices
), and stay in a nicer hotel for about 50€ and return back to airport when you are filled with energy for your next flight.
IGA Sleepod: Your Bed in Airport
If you want to relax without leaving the Istanbul Airport but find Yotel Hotel expensive, IGA Sleepod is for you. What is IGA Sleepod? IGA Sleepod is an isolated hourly rental bed. You can enjoy a good sleep with a 9€/hour charge. Please note that you need to give an extra 2€ if you want pillows and duvets. On the other hand, the insulation of the beds in this area is provided only by the top cover(lid); there are air vents through the lid to allow you to breathe comfortably when closed. As a result, when the lid is closed, this bed doesn't give you sound isolation. If you are sensitive to noises while sleeping, a baby crying in the environment, a snoring passenger near your Sleepod or a cleaning machine can disturb you; your sleep pleasure may be replaced by anger.
What about other choices to rest?
Other than the above, you have no choice but to rest on the seats. You can spend time with your phone on the seat at the gate and dream of your great sleep on the plane. Enjoy your flight.
0 Related Question(s)
0 Related Article(s)