LC Waikiki Clothing Stores in Turkey
Author : isturkeysafe
6/12/2019
Last Update : 6/16/2019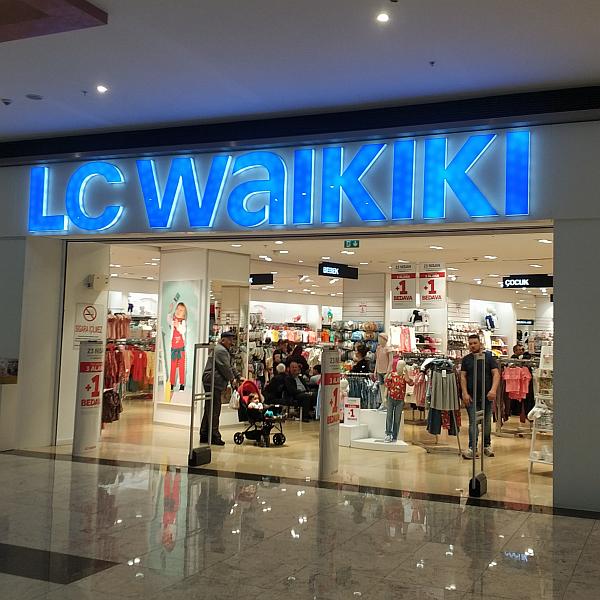 When it comes to clothes in Turkey, you can see dozens of clothing stores on street and shopping centers. This can be expected since Turkish people like to spend money on clothing. In addition to local clothing stores you see on street, many chain clothing stores also available at shopping centers in Turkey. LC Waikiki is undoubtedly one of the top clothing stores in Turkey. LC Waikiki journey started in France in 1988 and continued in 1997 as a Turkish brand. With 'Everyone has right to dress well' philosophy, the company became Turkey's clothing giant over the years. In 2009, the first abroad store was opened in Romania in order to continue its success in Turkey, and in only 10 years, it became operational in 46 countries. Currently, LC Waikiki has become a billion-dollar company serving with 954 stores in 46 countries. You can see this store in almost every shopping center at most of the cities of Turkey.
So, what makes LC Waikiki so successful? LC Waikiki operates on the basis of a discount clothing store. Therefore, it is possible to find quality products at very reasonable prices. Especially if you check the discounted items, you can buy a couple of clothes cheaper than a meal in Turkey. Product quality is also not bad, you can wear products for years without any problem. The warranty period for clothing in Turkey for 2 years; so if you have any problem in 2 years, you can have a stop at any LC Waikiki store with your invoice/receipt. You can find products similar to Primark quality at LC Waikiki Turkey. What clothes does LC Waikiki sell? In fact, you can find everything that comes to your mind when it comes to clothing at LC Waikiki. Many different styles of clothing are sold from casual clothing to suits, from swimming clothing to accessories there. For what age range are clothing sold at LC Waikiki? From 1 month baby to 90 year-old adult, LC Waikiki sells clothes for all ages. When you enter the store, you will see that the sections are divided as Women, Men and Children; they usually serves in large department stores with reserved sections.
Then, what should you pay attention to when buying clothes from LC Waikiki? If you are planning to shop at LC Waikiki, one of the most critical issues is timing. Since the Turks love LC Waikiki brand, LC Waikiki stores are generally more crowded than other clothing stores. Therefore, for example, at a crowded weekend, you may have to wait a long queue to try a cloth in cabinet. The solution is to go to LC Waikiki clothing stores on weekdays when people are not crowded. If this is not possible, you can try to be there at the opening hour in the morning. Does LC Waikiki have an online shop? Yes, LC Waikiki also has a comprehensive online clothing store. Enter
https://www.lcwaikiki.com
to view the LC Waikiki products; you can also see the best prices there. For example, you can get a nice t-shirt for 20 TL or a stylish jacket for 80 TL by clicking
LC Waikiki Discount Products For Women
address.
So, as a result, whether you urgently need for a dress or planning to buy gift to your loved ones from Turkey, you can safely choose LC Waikiki Clothing Shops.
0 Related Question(s)
1 Related Article(s)