Safety of Turkish Trains : Information and Tips
Author : isturkeysafe
9/8/2018
Last Update : 5/28/2020 Although not so common as in Europe, railway transportation in Turkey is used by millions of people. Generally, conventional trains are operated, but there are also a few high-speed trains.
Is it safe to use the train for transportation in Turkey? Compared with transport by road, railways considered safe to use in Turkey. On the other side, when evaluated within railway industry, railway accident statistics in Turkey is above the OECD average. On the other hand, from crime(theft etc.) point of view Turkey trains are quite safe. As soon as you put your wallet and mobile phone safe(pockets), you are unlikely to suffer theft in train.
In Turkey, the only high-speed trains are between Ankara-Eskisehir and Ankara-Konya. The trains on these lines are running at a speed of 250 km/h. The train between Ankara-Istanbul is also referred to as a high speed train, but this train travels 250 km/h only between Ankara and Eskisehir, afterwards serves as a conventional train at 100 km/h between Eskisehir and Istanbul. All trains outside these trains are conventional trains and are generally much slower than the highway because they stand at too many stops.
All trains in Turkey are operated by Turkiye Cumhuriyeti Devlet Demiryollari-TCDD(Turkish State Railways). All ticket-booking processes are carried out at TCDD web site(
click for TCDD English web site
).When you need to buy a ticket for the TCDD high-speed train, you'll realize that the tickets run out too fast. This is due to the fact that high-speed trains have low number of services and are generally the fastest transportation alternative on this route. So is it possible to buy tickets for a full train anyway? You may buy tickets for a full train using small tricks. TCDD software accepts reservations up to 3 hours prior to departure. 3 hours before the departure, all bookings that have not been converted to tickets are canceled. Therefore, if you check for the tickets 3 hours before the departure time of the train you want to get in, it is possible to find an empty seat.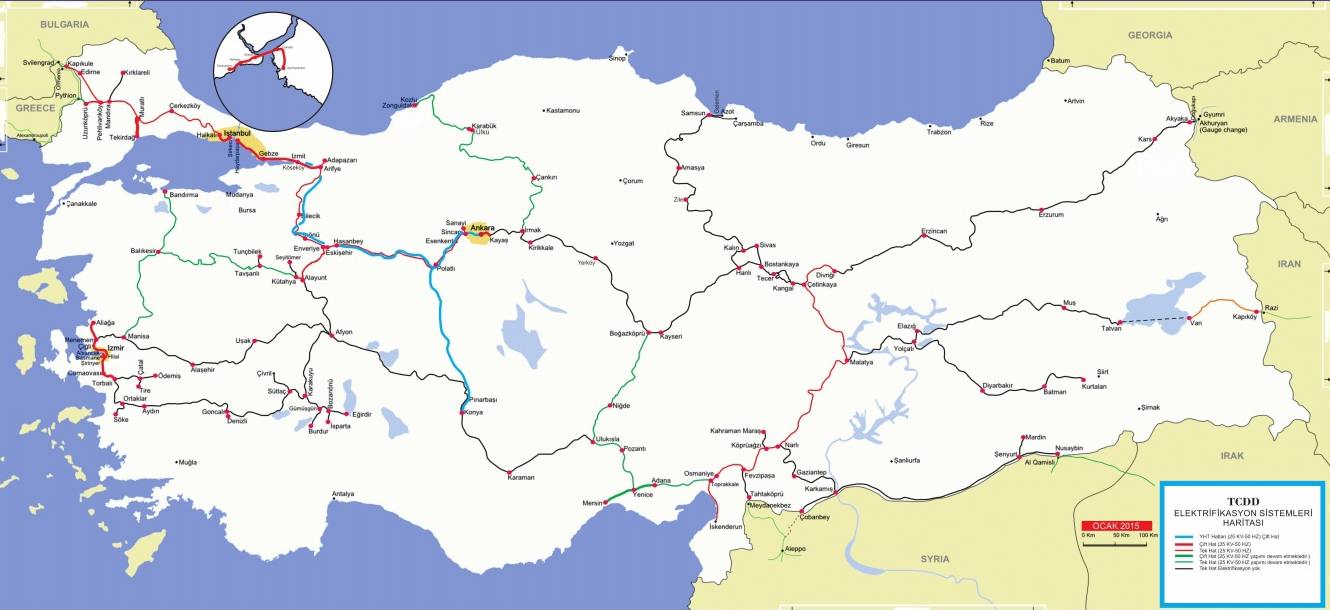 TCDD Turkey Train Map
In recent years sought to train in Turkey is increasing. Especially because of its wonderful landscape and feeling, the Eastern Express is very popular among those looking for a romantic getaway. Tickets for this journey which held between Ankara and Kars and lasting 25 hours can be consumed in the months ahead.
There are also a small number of railway line between Turkey and abroad. For tourists wanting to come by train from Europe, there are services from Sofia and Bucharest to Istanbul. In the same way, there are train services between Tabriz (Iran) and Van (Turkey). All the details and timetables can be found at TCDD web site.
12.13.2018 Update
Unfortunately in 2018, train accidents in Turkey continued to increase which will probably increase the OECD rating also. In Ankara, a high-speed train on route from Ankara to Konya collided with a guide train that controls the road at 12 December 2018. 9 people dead on this crash (
Ankara train crash: 9 dead and 47 injured - Independent
) As a result of this train accident, it has been revealed that at various points of train network in Turkey, there is no automated signaling system, manually controlled operation's are being executed. According to information provided by the Ministry of Transport and Infrastructure, 45% of Turkey's train network has the signaling system. 55% of railways in Turkey are still managed by manual operations.
On July 8 2018, only 5 months before Ankara accident, a train derailed at Corlu, Tekirdag due to the excessive rain dragging the soil under the rail where 24 passengers dead.(
Corlu train accident: 24 dead and 360 injured - Dailymail
)
May 28 2020 Update
YHT train services, which were suspended for a while due to the Covid-19 measures, started on the Ankara-Istanbul route today at 07:00. During the normalization period, YHTs will make a total of 16 services per day on Ankara - Istanbul, Ankara - Eskisehir, Ankara - Konya and Konya - Istanbul lines. In addition to measures for social distance in the train, passenger train ticket sales are also made by 50% capacity in order to help social distance.
0 Related Question(s)
0 Related Article(s)