Are Cappadocia balloons safe?
Author : isturkeysafe
9/11/2018
Last Update : 6/8/2019 Cappadocia is home to one of the most miraculous formations created by nature; fairy chimneys. Over 2 million tourists from all over the world visit Turkey every year to see this miracle in place. Where in Turkey are fairy chimneys? Cappadocia is a region in the Central Anatolia; largely in the Nevsehir, Kirsehir, Aksaray, Kayseri, and Nigde cities. The region has been home to many communities during centuries. In this area, besides fairy chimneys, houses carved from rocks, archaeological remains and Ihlara valley are also places to be seen.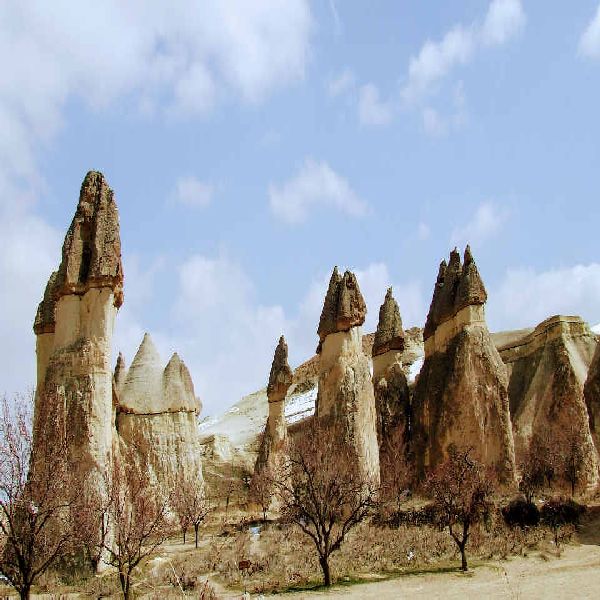 Fairy Chimneys
Hot-weather balloons are an unforgettable activity in this fairy tale world. In beautiful weather, you can say hello to the sun with the harmony that hundreds of balloons create in the sunrise.
The balloon, in which the passengers are in the basket of 4 to 20 people, works with the principle of rising of warm air. After the balloon has risen, there is no equipment to apply a lateral thrust, it only proceeds with the use of the wind by the pilot.
Is hot-air balloons safe in Cappadocia? It can be frightening for some people to fly up to a height of 1000m, within a basket with 1.5m walls and having open air around the edges. But when the rules are followed, the balloon is very safe. An average mortal accident can happen once in every year, a statistic that is too low for an activity where so many flights are made (the road trip to reach the balloon is statistically riskier). The balloons are blown by licensed balloon pilots. At least 100 hours of theorical and 10 hours of practical flight training are required to become a balloon pilot. The greatest risk for a balloon is usually the weather conditions. Before each flight, the flight compliance report of the air issued by the Civil Aviation Authority is checked. The flight can be canceled at any time when it is not considered to be safe. (
Click here to check flight availability from Cappadocia University
). In general, flights are not available due to improper weather conditions in one third of the year. However, weather conditions in Cappadocia can change rapidly. Balloon pilots are rigorously trained in weather conditions, and in the event of an improper weather condition, the flight can be terminated even if the flight has begun considering flight safety. If the weather conditions are bad, a hard landing can be done. Because of this bad experience, balloon flight for children, sick and elderly people may not be very suitable.
To summarize, hot-weather balloons are quite safe. If you come to this fairy tale world, it is definitely worth taking out the breathtaking scenery with balloons.
0 Related Question(s)
0 Related Article(s)